During the Jetty project, I have spent some time talking to people who all say one thing: you have to put Dunston Staiths on a map. It has also been pointed out to me that Gateshead has probably tried every regeneration strategy that time has privileged. And so, I set about creating a walk that begins at the Baltic Centre for Contemporary Art and ends at Dunston Community Centre, with Dunston Staiths as a key feature of the walk.It takes in slum clearance, culture-led regeneration and garden festivals.
The Royal Geographical Society have a fantastic website where people contribute their walks of Britain so that other people can enjoy them. And so, the 80 years of history that can be seen from the Baltic to Dunston is now available on their website.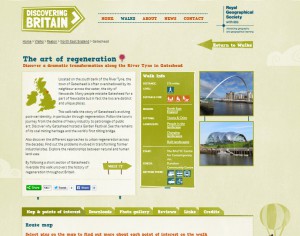 The walks are self-guided and you can choose from different formats.The walk booklet contains everything that you need to know including practical information, route maps and the commentary. You can either print it out or download it onto an iPad or eReader. Alternatively you can download an audio version of the commentary onto an mp3 player. You also need to print out the accompanying booklet which contains the essential map and directions as these are not incorporated into the audio.
Let us know what you think at info@jetty-project.info
Angela Connelly, 21 July 2014